It can be tough to add va-va-voom to fine, limp locks, but it doesn't have to be! Here are our favorite products to boost fine hair.

1. Kenra Volumizing Shampoo - Go for a body-building shampoo instead of a hydrating one. Of all hair types, fine hair has the most moisture naturally. The sulfates in many shampoos damage your hair and strip it of natural moisture. This Kenra shampoo (and all of their shampoos, actually) is sulfate-free.
2. Kenra Volumizing Conditioner - This conditioner gets the job done, but is light enough to not weigh your hair down. This conditioner contains wheat proteins, which fatten each hair strand and make your hair appear thicker.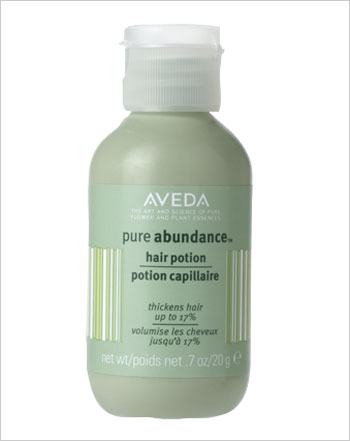 3. Aveda Pure Abundance™ Hair Potion - Try adding a bit of this unique powder to damp hair for a mega-boost. Thickening agents like acacia gum and kaolin clay increase hair thickness by up to 17%! And because it is a powder, it is great for soaking up extra moisture on second day style.
4. Bumble and Bumble Thickening Spray - This product does it all: it's for blow-drying, setting, protecting from heat and adding volume, lift and control, too. For maximum thickness, pair it Bumble and Bumble Thickening Shampoo and Conditioner.
5. Neuma Incontrol Spray - Avoid firm-hold, stiff hairsprays, as they can fracture your hair when you comb it out. This flexible hold, non-aerosol spray is your best bet for quality hold.
What are your go-to products for adding volume? Review your favorites on our Product Matchmaker.
For the love of hair,
Melanie